Other than the whole 'space' theme, these have nothing to do with Buzz Light-year, however I searched for some cool 'space' themed decor for my son, who is seven. He loves planets, stars, galaxies- everything 'space!'
Here are some cool finds for fellow space children and maybe even adult space lovers alike! Ok, yes, definitely adults will love some, if not all of these things!

Decals! Duh.
This was my number one search: Decals. More specifically, 'Space Decals.' The Super Space Explorer Decorative Peel & Stick Wall Decals are an excellent size for the price. Wall space is half the battle in a themed room.

When the lights go down…. or get this for your room!
The Sun And Star Lighting Lamp is a 'must have' for every child's room. It's such an inexpensive way to bring excitement, relaxation and wonder all at the same time.

OMG, you guys! Look at this Dimmable-Moon Lamp Shade! The face that you can carry it around and hold it makes it even better!

The Star Blackout Window Curtain
is great if you A.) Need Curtians or B.) Would like your child to sleep in just a little longer than 6am during the summer! Beautiful, twinkly stars fit for a boy or girl.
If you'd like some wall art to add to the decals, check out these minimalistic wall art pieces.  They easily match the curtains and the decals to pull the wall of this room together! –Pillow & Toast LIMITED EDITION SPACE WALL ART: Set of FOUR
Who didin't have glow in the dark stars?! I still remember putting stars all over my ceiling, in my childhood room. Unlike the stars I had, these look a little more reliable when it comes to not falling on my face at night! – Get them here: Glow In The Dark Stars Wall Stickers
A light switch cover. This is a tiny detail a lot of people overlook! It is so simple to change plate covers. I discovered this while we were still renting an apartment, shortly after having my son. These babies move with me now! Get it here: Fox Fur Nebula – Light Switch Plate Cover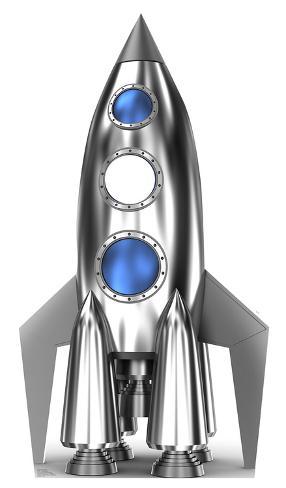 The Rocket Stand-In – Advanced Graphics Life Size Cardboard Standup
sits 6 ft high! SIX! FEET! Tuck this baby in a corner and make the room immediately seem like a more realistic space environment.
Accompany all of these things with a rug!
Aliens and Rocket in Outer Space (3′ 11″ x 5′ 3″)
fits in almost any space! I have hardwood floors and this works perfect for me. I don't know if there is a rule about rugs on carpets but I'm not against it.